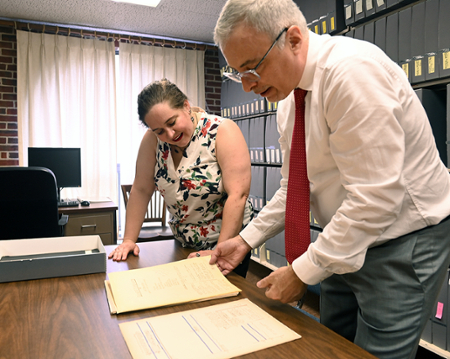 The Benjamin T. Rome School of Music, in full cooperation with the Organization of American States and the Inter-American Music Council, founded the Latin American Center for Graduate Studies in Music (informally called the Latin American Music Center, or LAMC) in 1984.
The LAMC aims to promote the study, research, and development of Latin American music. This includes compiling and maintaining a complete and specialized library of scores, books, and recordings of Latin American music and fostering the exchange of ideas among students, scholars, performers, composers, musicologists, and music educators.
The core of the LAMC collection is the music collection donated in 1984 by the Organization of American States (formerly Pan American Union) with a 2008 addition of the music collection from the Brazilian American Cultural Institute (BACI). Donations have been accepted from composers, performers, publishers and arts organizations and continue to be gratefully received.
The Music Catalog of the LAMC contains a brief listing of nearly 2,000 scores by Latin American composers, including both commercial publications and reproductions of composers' manuscripts provided by the composers themselves. The material is housed in the Latin American Center for Graduate Studies in Music and may be consulted there or in the Music Library.
In addition to the LAMC Music Catalog, a significant portion of books and scores with a Latin American focus are housed within the collection of the CUA Music Library and may be found in the WRLC Catalog.
Latin GRAMMY Cultural Foundation Grant
The Latin American Music Center was awarded a $5000 grant from the Latin GRAMMY Cultural Foundation® through their Research and Preservation Grant program. This grant funds the project "Digitizing and Documenting the Collection of The Latin American Music Center at The Catholic University of America," which supports the necessary ongoing archival and cataloging work of the LAMC. Through their generous support, we are able to continue to preserve our unique collection of Latin American music. Final Report to the Latin GRAMMY Cultural Foundation.
Research Rules
Archival material does not leave the LAMC. (Archival material includes that belonging to the Pan-American Union, Parker, and Stevenson collections)
Catholic U. students may borrow one score at a time; those outside the Catholic U. community may use material onsite only.
All scores must be signed out. Sign out sheets are located in the binder on the desk near the window. 
Loan period is three weeks.
All material is due before final exam period. 
If items are not returned, borrowing privileges will be revoked.
Returns should be placed on the brown desk by the large window.