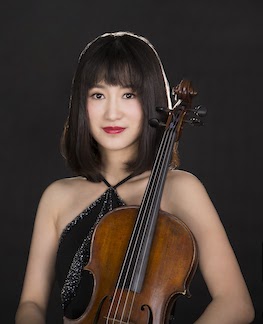 Academic Area
Instrumental Music and Conducting
School
Rome School of Music, Drama, and Art
Violist Dan Zhang has played concerts throughout Europe, the United States, Asia, and South America as a soloist, chamber musician, and orchestra musician. Dr. Zhang has performed in prestigious venues such as Carnegie Hall, Kennedy Center, Heinz Hall, Gewandhaus in Leipzig, Teatro Centro Cultura Kirchner in Buenos Aires, and NHK Hall in Tokyo. In recent years, she has been invited to play with orchestras including the Kennedy Center Opera House Orchestra, Pittsburgh Symphony Orchestra, Jacksonville Symphony Orchestra, and Naples Philharmonic. Dr. Zhang actively appeared in music festivals such as Master Music Course Japan, Bach Cantata Music Festival in Germany, Kneisal Hall Music Festival and International Jungen Orchesterakademie in Germany. 
Dr. Zhang teaches at Washington Adventist University, Mason Community Arts Academy and Catoctin School of Music and at her studio in DC area. Being a passionate teacher, Dr. Zhang sees herself as a role model for her students, aiming to humble, nurture, inspire, and learn from each other. Dr. Zhang has conducted masterclasses at schools such as George Mason University, Shenandoah University, MinZu University of China, Xi'an Conservatory and Beijing Normal University. She is also clinician musician of Loudon County and Fairfax County public schools. Her mission is to nurture students' academic success, in relation to their personal goals and journeys.
As a collaborator and advocate, Dr. Zhang has had the privilege to serve as artist director of "The Sound of Piano, Strings and Voice International Music Festival", based in Xi' an, China. This program provides young musicians with a strong artistic vision and stage presence.
Dr. Zhang was the winner and finalist of many competitions, which including the First China Viola Festival and Competition, 3rd Hong Kong International Strings Competition, the International Max Rostal Competition in Berlin, and the International Anton Rubinstein Viola Competition in Dusseldorf, Germany. 
Dr. Zhang received her D.M.A. at The Catholic University of America, M.M. at Yale School of Music, A.D. from Shenandoah University and B.M. from Central Conservatory of Music in Beijing.