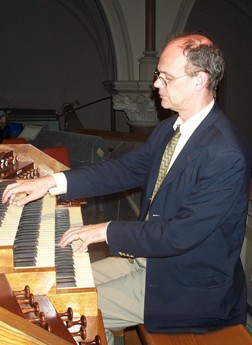 Academic Area
Sacred Music
School
Rome School of Music, Drama, and Art
Ronald Stolk is director of music of St. Patrick Catholic Church in downtown Washington, DC.
He is a graduate of the Royal Conservatory in The Hague, the Netherlands, where he studied organ with Johann Th. Lemckert, and obtained degrees in organ performance and church music. He studied with Jean Langlais and Gaston Litaize in Paris and took courses at the International Summer Academy for Organists in Haarlem, studying interpretation with Piet Kee, Ewald Kooiman, Daniel Roth, Xavier Darasse, Ton Koopman, and Ludger Lohmann; improvisation with Louis Toebosch, Hans Haselböck, and André Isoir.
He is the winner of the J.S. Bach Prize of the City of Wiesbaden (Germany), First Prize in the American Guild of Organists National Competition in Organ Improvisation, First Prize in the San Anselmo Competition, and was a finalist in competitions in Haarlem, Strasbourg and at St. Albans (England), where he received a Tournemire Medal.
Active as a recitalist and teacher, he has published in the Dutch musical press and contributed hymn preludes and settings to Dutch collections.
He was the Coordinator of the 2010 American Guild of Organists National Convention in Washington, DC, and was dean of the District of Columbia AGO chapter from 2006–2009. An organist liaison for the National Association of Pastoral Musicians, he is also a board member of its Washington, DC chapter.