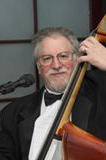 Academic Area
Instrumental Music and Conducting
School
Rome School of Music, Drama, and Art
Dr. Paul Scimonelli was a member of the Music Faculty and Director of Strings at the Landon School in Bethesda, Maryland until his retirement in 2014.  Paul received his Doctorate degree in Music Education from The Catholic University of America, where he was the instructor of the CUA Jazz Ensemble, as well as a member of the CUA Symphony Orchestra and the Part-Time faculty. Dr. Scimonelli also holds a Bachelor of Music degree from CUA and his Masters of Music from The University of Arizona.
 Prior to his teaching position at Landon, Paul was a faculty member in the Prince George's and Howard County school systems, and was on the adjunct faculty of Prince George's College and Howard Community College where he taught a wide variety of classroom courses, private instruction on String and Electric Bass, and directed jazz ensembles in both colleges. 
 Along with teaching, Paul has been an active professional performer throughout the greater Washington/Baltimore area.  In the Classical field, he has performed with Orchestras in Richmond and Lynchburg Virginia, Tucson, Arizona, The Baltimore Chamber Orchestra. Alexandria and Arlington, VA symphonies, The Columbia Orchestra, The Symphony of the Potomac, and The Thomas Jefferson University Choir and Orchestra in Philadelphia.  In the world of Washington theater, Paul has played for dozens of shows, including, Cats, Starlight Express, Kiss Me Kate, Grease, The Sound of Music, Jacques Brell is Alive and Well, Hairspray, Catch Me If You Can, Dream Girls, Anything Goes, City of Angles, 7 Brides for & Brothers, and Joseph and the Amazing Technicolor Dream Coat,  to name but a few.
 Also a skilled accompanist, Paul has played with luminaries such as Sammy Davis Jr., Johnny Mathis, Ray Charles, Dizzy Gillespie, Jack Jones, Toni Tenille, Lynn Anderson, Sam & Dave, The Four Tops and many more.  For three years, Paul wrote pop music in Nashville, Tennessee for several major publishing houses and also performed as a cast member of "The Sensations" and "At The Hop" in Opryland USA theme park. His current band "Street Life" has been performing since 1980.
Dr. Scimonelli's first book, "Roy Sievers: The Sweetest Right Handed Swing in 1950's Baseball" is available at Amazon, Barnes & Noble and McFarland books. A sample of the book is available at http://paulscimonelli.com/ biography.