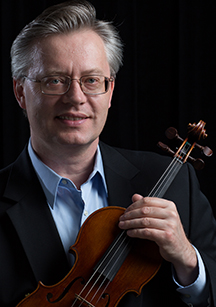 Academic Area
Instrumental Music and Conducting
School
Rome School of Music, Drama, and Art
Concertmaster of the Kennedy Center Opera House Orchestra, Russian-born violinist Oleg Rylatko has performed throughout Europe and both American Continents as a soloist, recitalist, and a chamber musician. His American recital debut at the Kennedy Center in Washington, DC was acclaimed by critics as "...the performance of a lifetime..." (Washington Post).
His venues have included such prestigious concert halls as Kennedy Center, Corcoran Gallery and Phillips Collection in Washington, DC, Avery Fisher Hall in New York, Teatro Colon in Buenos Aires, BRD Concert Hall in Hanover, Germany, Salle Gaveau of Pairs, Salle Claude Champagne and Palais des Arts in Montreal, among others. His recordings, released by Vernissage Records include music by Tchaikovsky, Prokofiev, Brahms, and Beethoven, as well as the world premier recording of "Scherzo - Affanatto" by contemporary Russian composer I. Frolov.
A graduate of the Moscow State Conservatory, where he studied with internationally acclaimed violinist, Victor Tretyakov, Mr. Rylatko has won first prizes in both the Kotzian International Violin Competition and Byelorussia National Competition. He has also received an Artist Diploma from the Peabody Conservatory at the Johns Hopkins University under the guidance of renowned artist and pedagogue Prof. Berl Senofsky.
As the concertmaster of the Washington Opera, Oleg Rylatko has collaborated with such distinguished artists as Philippe Auguin, Placido Domingo, Heinz Fricke, James Levine, Leonard Slatkin, Gian-Carlo Menotti, and Valeri Gergiev among others. 
Also, he is teaching at his studio in McLean, VA. Oled Rylatko has served as a judge in numerous violin competitions. He is frequently giving master classes in the US and abroad. His studio has produced many prize winners of prestigious compeitions and violinists successfully pursuing professional careers.