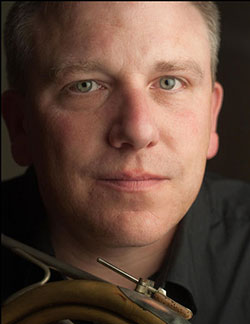 Academic Area
Instrumental Music and Conducting
Music Education
School
Rome School of Music, Drama, and Art
Eric Moore, a native of Falls Church, Va., retired from the United States Navy Band in 2013, having served as its Principal horn player from 2001 to 2011. Eric earned both a Bachelor of Music Education and a Bachelor of Arts in history from Boston University, graduating cum laude in both programs and received a Master of Music in horn performance from the University of Texas at Austin. He recently, in May 2015, received his DMA from The Catholic University of America in orchestral instrumental performance.
An active performer, he has regularly performed with the National, Arlington, Maryland, Harrisburg and Fairfax Symphonies and was a member of the Austin Symphony, Austin Lyric Opera and Austin Ballet Orchestras before moving to Washington, DC. Eric currently serves as principal horn with the Fairfax Symphony—a position he has held since 1999—and has appeared as a soloist with the Navy Band, Fairfax Symphony and Arlington Symphony Orchestras. An advocate for bringing quality classical music to culturally underserved communities, he was president of the Falls Church Chamber Orchestra for nine years, an ensemble which he founded in his hometown. His former teachers include Wayne Barrington (Chicago Symphony), Jay Wadenpfuhl (Boston Symphony), Michael Hatfield (Indiana University), Scott Fearing (National Symphony), Laurel Ohlson (National Symphony) and Abel Pereira (National Symphony).
Eric greatly enjoys teaching and has previously served on the faculty at George Mason University in Fairfax, Virginia for nine years. He currently lives in Falls Church, Virginia, in the house he grew up in, with his wife, Adrienne, daughters, Katherine and Johanna, and son Henry.