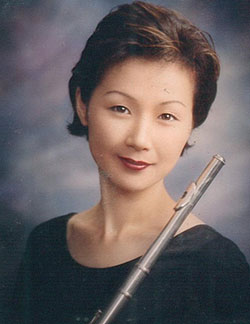 Academic Area
Instrumental Music and Conducting
School
Rome School of Music, Drama, and Art
Dr. Michelle Cho has performed in highly recognized stages both locally and overseas. In Korea, she won first place in the National Music Research Society Competition. She has been invited to perform in the music tour in Tokyo, Japan. Not only has she had experiences overseas, but she has also performed locally at Carnegie Hall Concert Series with the New England Orchestra in New York and the Kennedy Center, Terrace Theater in Washington D.C. Also, she was a substitute member for the Maryland Symphony Orchestra, and she is currently a member of New Life Chamber Artists.
Along with her performance career, she has also built a career in conducting since 1996. She studied conducting with Dr. Kate Tamarkin Arnold, and she has conducted numerous concerts across the United States and overseas: Japan, Korea, Mexico, Thailand, and New York. She also conducted a performance in Maryland General Assembly in Annapolis for the Lunar New Year Day Celebration in 2006. 
Dr. Michelle Cho has received her Doctor of Musical Art (D.M.A.) and Master Degree in Flute Performance from the Catholic University of America. She has studied with Alice Weinreb, Elizabeth Rowe, Adria Sternstein Foster. Dr. Cho has been an Adjunct Flute Faculty at Catholic University of America since 2003. She has coached the Wood Wind Quintet and the Flute Ensemble at Catholic University of America. Also, Dr. Michelle Cho has instructed flute at D.C Youth Orchestra, Holton Arms School, and Bullis School. She also has her private studio in Maryland. Along with her teaching career, Dr. Michelle Cho is the president of New Life Foundation, which supports young talented musicians to fulfill their dreams. The foundation is focused on helping needy children through providing a musical education. Through the foundation, Dr. Cho has taught in music camps for children in poverty in Costa Rica, Dominican Republic, Thailand, South Korea, Mexico, and Cuba.