February 27, 2020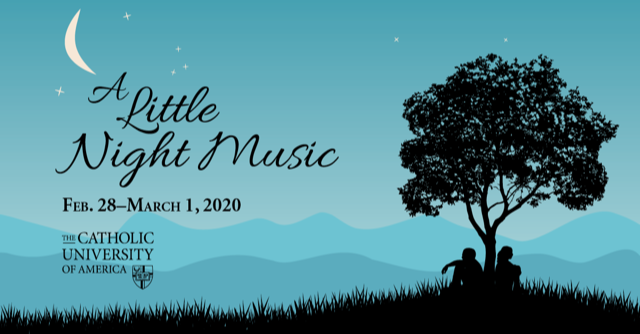 A Little Night Music, opening this Friday (2.28.2020) to a pre-sold out run is being directed by Kurt Boehm. We were able to reach out to him about his feelings and ideas about our production and give our audiences a little insight into the production before they see it this weekend. Boehm is an Alum and thrilled to return home to Catholic U after previously serving as Director/Choreographer for Nine, Cabaret, and Die Fledermaus. He currently serves as the Resident Casting Director of Keegan Theatre. There he has Directed/Choreographed numerous productions including: The Bridges of Madison County, Next To Normal, RENT, Spring Awakening, Dancing at Lughnasa, A Man of No Importance, Working, National Pastime, and Dogfight. Regional Credits include: Children of Eden, The Snowy Day, Spot's Birthday Party (Adventure Theatre MTC), Lyle The Crocodile, Dr. Dolittle (Imagination Stage), RENT (Toby's Dinner Theatre), A Grand Night For Singing (Washington Savoyards), Meet Me In St. Louis, Spamalot (Montgomery College), The Full Monty (Mac-Haydn). As an actor he has appeared at The Kennedy Center, Signature Theatre, Arena Stage, Alliance Theatre, ArtsEmerson, The Broad Stage, Ford's Theatre, Olney Theatre Center, Shakespeare Theatre, Imagination Stage, and Adventure Theatre MTC. He was recently nominated for Outstanding Lead Actor in a Musical for his performance in Daddy Long Legs at Monumental Theatre Company. Here's what he had to say about the show!
First, why do you believe that it is important for young artists to study Sondheim?
Sondheim is perhaps the most difficult composer to vocally nail consistently. That being said, everything an actor needs to know is written on the page. Every half step, rhythmic shift, and tonal adjustment gives the actor the emotion and beats to work with when conquering a scene. Sondheim, Rodgers and Hammerstein, along with Kander and Ebb define our nation's art form. Young artists must study Sondheim to conquer the "fear" and appreciate the foundation of Musical Theatre.
How does A Little Night Music fit into the Sondheim cannon?
This is a hard question to answer because I am a fan of so many Sondheim pieces from Assassins, Sunday In The Park With George, Sweeney Todd, and Into The Woods. All of Sondheim's masterpieces dive into the human condition and challenge the audience to look deeper into their own misfortunes and flaws while finding compassion and empathy for those around you. Night Music stands out to me because of the book itself. The humor and brilliance combined with his gorgeous score make for an unforgettable evening of theatre.
Why is A Little Night Music poignant and relevant in today's society, and why is it relevant to our CUA community?
A Little Night Music takes us on a journey where we meet flawed characters who are perhaps very different from what we would define as normal. It is more important now than ever before to reach across the aisle, find common ground, and build a future that we all can be proud of.
What are you doing with the show that will be unique to this production?
This production has only nine pieces playing in our orchestra and there is no ensemble to help move the plot along. You will see that our Quintet is working overtime in this production. Its thrilling to see a version that can (almost) be described as a chamber version.
Anything else you would like to add?
It has truly been a pleasure working on this unexpected project. It is always a thrill to come home to Catholic where I began my career. I am so excited to share this story with the CUA audiences.
Related News