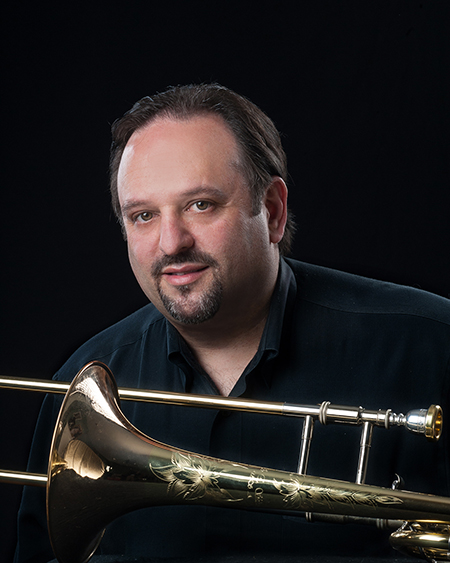 Academic Area
Instrumental Music and Conducting
School
Rome School of Music, Drama, and Art
Ken Wolff began studying the trombone at age 12. Within 3 years, he was playing professionally throughout the San Francisco, CA area with Classical, Jazz, Dixie and Rock and Roll groups such as the Rich Martini Big Band, San Francisco Dixie Company, Choral Brass Quintet and others. After additional studies as a scholarship student at Interlochen and Tanglewood, Ken received a Chancellor award scholarship to attend the University of Massachusetts as a trombone performance and conducting major. Following graduation, Ken pursued a career playing the trombone professionally. Ken has freelanced throughout the world and played with such groups as the Empire Brass Quintet, and most recently, the Baltimore Symphony. He can also be heard on the recently released recording by David Taylor, the famous bass trombonist and the Washington trombone Ensemble. 
An active solo artist, clinician and teacher, Ken's primary ensemble responsibilities are with the Capital Wind Symphony as their principal trombonist (an appointment he won in 2010). Ken also plays with Tres Bone, a trombone trio recognized for its trio commissions and original material and stands today as one of the better known trombone chamber groups in the world. Ken was also recently asked to join the board of directors for the Future Symphony Orchestra Institute, a think tank started by Andrew Balio, the current principal trumpet of the Baltimore Symphony. Ken also served as a strategic advisor to the board of directors for the International Trombone Association and is one of 5 moderators for the internationally recognized Trombone Pedagogy page hosted on Facebook. Finally, Ken serves as the executive director of the Washington Brass institute, a non-profit organization that serves scholarship and education interests nationally for all brass instruments.
Ken has focused his efforts for the past 12 years primarily in teaching. Nationally known as an expert in teaching concepts for younger students, Ken attracts private students from around the country, both young professionals and conservatory hopefuls. Known for having the top studio in the United States for the past several years running, out of an average studio size of 15, Ken has sent more and had more acceptances to Tanglewood, Interlochen, National Youth Orchestra, Juilliard, New England Conservatory, Northwestern, Jacobs and University of Michigan than any other teacher in the last 5-7 years. Recently, a student won a tenure tract, principal trombone job at the age of 19 with a major orchestra. All of Ken's current students were recruited from within a 15-mile radius of his house in Rockville, MD. His students also dominate the youth orchestras and honors county programs in the region. Ken's teachers have included: Jeannie Nelson, Ed Neumeister, Ned Meredith, Mitchell Ross, Mark Lawrence, John Marcellus, David Sporny and now Joe Alessi having recently attended the Alessi seminar in Fossano Italy as a participant.