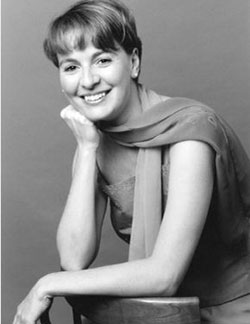 Academic Area
Instrumental Music and Conducting
School
Rome School of Music, Drama, and Art
Michaela Trnkova, international harpist, is an honor graduate of the Prague Conservatory and holds a Bachelors in Music, and Masters in Music from the Peabody Conservatory of Johns Hopkins University. She received the Jack T. Schlenger Scholarship at the Peabody. She also won First Prize in the Leonard Dorf Competition in Belgium and has won prizes in numerous other competitions.
Michaela is Coordinator of the Peabody Preparatory Harp Department of The Johns Hopkins University, Faculty at the Benjamin T. Rome School of Music/The Catholic University of America, Corcoran School/The George Washington University, and The Gilman School.
She is the founder of The Peabody Preparatory Harp Ensemble, which performs regularly at International and National Festivals.  In the summer of 2012, she was instrumental in creating the first summer harp program for the Peabody Preparatory She enjoys teaching all ages and all levels at Peabody as well as in her private practice.
Aside from teaching, Michaela has a parallel career in performance in both classical and pop venues which takes her around the world. She has performed for Saint Pope John Paul II, U.S. Presidents George H. Bush, Bill Clinton and Czech President Vaclav Havel. Other performances include numerous symphony orchestras including a performance in Alice Tully Hall in NY. She is a regular recitalist for the Civil Society honoring National dignitaries. Recitals include performances in the Czech Republic, Austria, Germany, Great Britain, Belgium, Hong Kong, Taiwan, and recordings with the Singapore Symphony.
Her pop concerts include numerous performances with Ray Charles and American Idol, Clay Aiken. She has performed for Prince Karel Schwarzenberg, Milos Forman, Willard Scott, Tom Brokaw, Martina Navratilova, Dr. Nancy Grasmick, James Lovell, and Secretary of State, Madeleine Albright. Michaela also lectures on music and arts in the Czech Republic. She is a member of the American String Teachers Association, The American Harp Society.
Michaela was a vice-president of the Baltimore Harp Society Chapter from 2004-2005, treasurer of the Washington, D.C. Harp Society Chapter 2014-2015, Vice-President of the Washington, D.C. Harp Society Chapter 2015-2018.