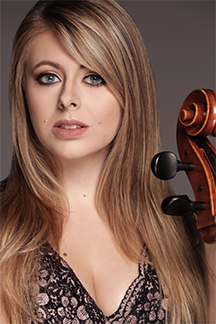 Academic Area
Instrumental Music and Conducting
School
Rome School of Music, Drama, and Art
Croatian cellist Dorotea Rácz has concertized throughout Europe, United States, Central and South America as a soloist, recitalist and chamber musician. Prof. Racz has performed in prestigious venues such as the Mozarteum in Salzburg (Austria), the Teatro Naval in Buenos Aires (Argentina), the Kennedy Center in Washington D.C., and the Carnegie Hall in New York (USA). Recent festival appearances include International
Festival "Umbria Classica", International Tango Festival Medellin (Colombia), Festival Musica de Camera San Miguel de Allende (Mexico), and Cape Cod Chamber Music Festival (USA).  

A passionate collaborator and advocate of 20th and 21st century music, Racz is the founder and co-director of Audeamus International Music Festival, a performance and teaching festival in Zagreb, Croatia. In addition to the annual festival in Zagreb, Racz has directed auxiliary concerts under the auspices of Audeamus in the
United States, including "100 Years of Croatian Classical Music" at the Kennedy Center. In 2017, Prof. Racz has recorded chamber music of Robert Muczynski for a Dutch label Brilliant Classics.

In recent years, Prof. Racz serves as the principal cellist of the Pan American SymphonyOrchestra and a cellist of D.C.-based piano trio Tango Camerata. She has collaborated with Piazzolla protégé Martin Leon, and the tango quintets Forever Tango and F-21. Moreover, Prof. Racz has presented various concerts of Central and South American music in association with the Latin American Music Center. Most recently, Prof. Racz
appeared as a soloist with the Pan American Orchestra at the Kennedy Center presenting the North American premier of Arturo Marquez Cello Concerto Espejos en la Arena.
During her education, Prof. Racz has collected over thirty international prizes, including the Grand Prize at International Competition "Casarza Ligure" (Italy), 1st prizes at International Competition "Antionio Janigro" for young cellists (Croatia), International Competition "Valsesia Musica" (Italy), International Competition Alpe-Adria "Alfredo e Vanda Marcosig" (Italy), as well as the 2nd price at the AFAF International Concerto Competition (USA), to mention a few.
At the age of sixteen, Prof. Racz was awarded a full merit scholarship to study with Amit Peled at the Peabody Institute of the Johns Hopkins University, where she completed Bachelor and Master of Music degrees. Prof. Racz completed Doctorate in Music at the Catholic University of America, with a full scholarship and graduate assistantship in the studio of Michael Mermagen. Prof. Racz serves as Professor of Cello and Chamber music
at the George Mason University School of Music and Catholic University of America.