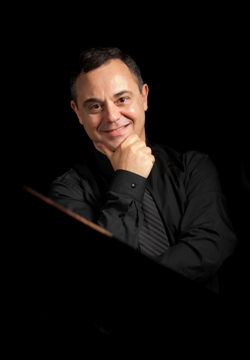 Academic Area
Piano
School
Rome School of Music, Drama, and Art
Prize winner of international piano competitions and a Bösendorfer Concert Artist, pianist Ivo Kaltchev has enjoyed a successful performing career as recitalist, soloist with orchestras, chamber musician, and recording artist. "Formidable technique" (Piano Journal, England), "possesses the genius of rubato" (Diapason, France), "distinctive and original" (Soviet Culture, Russia), "impressive" (Frankfurter Neue Presse, Germany), "most beautifully and idiomatically played" (International Record Review, England), "glittering," "big technique" (The Washington Post, U.S.), "a master of the whole range of pianistic attacks and coloristic effects" (The Star Ledger, U.S.)—these are some of the words that music critics have used to describe Dr. Kaltchev's artistry.
Dr. Kaltchev has performed in musical centers throughout the world, including Carnegie's Weill Recital Hall, Lincoln Center's Alice Tully Hall, the Kennedy Center, the Library of Congress, Moscow Tchaikovsky Conservatory's Malii and Rachmaninov Halls, St. Petersburg State Philharmonic Hall, Warsaw National Philharmonic Hall, Salle Moliere (Lyon, France), Tel Aviv Museum Recanati Auditorium, Mendelssohn Hochschule für Musik Hall (Leipzig, Germany), Princeton University's Richardson Auditorium, and the Bulgaria Great Hall. He has been a guest artist at music festivals in Austria, Spain, Germany, Switzerland, Czech Republic, France, Bulgaria, Italy, Portugal, Finland, Ukraine, Korea, China, Singapore, Thailand, and the U.S. Some of the highlights of recent seasons include a solo recital and a concerto performance with the EOS Orchestra in Alice Tully Hall, a concert tour in Asia, as well as performances of the complete solo piano works of Claude Debussy. A respected chamber musician, Dr. Kaltchev has collaborated with members of the New York Metropolitan Opera, New York Philharmonic, Boston Symphony, National Symphony Orchestra, and Royal Concertgebouw Orchestra, as well as Essex Quartet, pianists Ilana Vered and Milena Mollova, and French actress Marie Christine Barrault.
Dr. Kaltchev's critically acclaimed commercial recordings for the Bulgarian "Gega New" label include an all-Charles Griffes CD (hailed by the French magazine Diapason as "the most accomplished interpretation known until now"), a CD with the world premieres of solo piano works by the French composer Florent Schmitt, as well as a recently released CD with works of Debussy.
Dr. Kaltchev holds degrees and diplomas from Yale University and Rutgers University, Sofia Academy of Music, and the Liszt Hochschule für Musik (Weimar). He is recipient of piano pedagogy awards for teaching excellence and has presented lectures, workshops, and master classes in Europe, China, Korea, Singapore, Thailand, the Virgin Islands, and the U.S. Dr. Kaltchev's students are prize winners of more than thirty piano competitions and have performed with numerous orchestras including I Solisti di Perugia (Italy) and Orquestra De Camara De Cascais E Oeiras (Portugal). Dr. Kaltchev is an active adjudicator and has judged international piano competitions in Europe, Asia, Latin America, and the U.S.
Currently, Dr. Kaltchev is Professor of Piano and Head of the Piano Academic Area at The Catholic University of America in Washington, DC. He is co-director and co-founder of the Washington International Piano Festival (www.washingtonpianofest.com), as well as the Artistic Director of the Bulgarian Music Society Concert Series at the Bulgarian Embassy in Washington, DC (www.bulgarianmusicsociety.org). He has taught as a Visiting Piano Professor at the Beijing China Conservatory of Music and the Yale University School of Music.