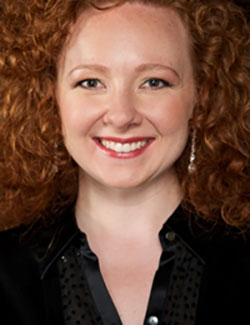 Academic Area
Piano
School
Rome School of Music, Drama, and Art
Pianist Francesca Hurst (D.M.A., M.M. The Catholic University of America; B.F.A., B.A. Tulane University) serves on the adjunct piano faculty of The Catholic University of America (CUA) in Washington, D.C. Praised for her "exquisitely fluent" playing (ICareIfYouListen.com), she is at ease performing both traditional and 20th-century and contemporary solo and ensemble repertoire. She has performed in many venues including the Kennedy Center for the Performing Arts, the National Museum of Women in the Arts, the Atlas Performing Arts Center, Peabody Conservatory Friedberg Hall, the University of Maryland Baltimore County, the University of Delaware, Gettysburg College Conservatory, the Montgomery College Cultural Arts Center, the Italian, Finnish, Bulgarian and Vatican embassies, the World Bank, Jordan Kitt's Community Concert Series, the Lyceum in Old Town, Alexandria, VA, and abroad in Italy, Portugal and Bulgaria.
A frequent solo and collaborative performer of new music, Dr. Hurst has been a guest artist at several contemporary music festivals including New Music Delaware, Livewire IV at UMBC, and the New Voices Festival at CUA. Her interest in contemporary music has led her to perform works by composers such as Steve Reich, John Luther Adams and Marc Mellits, and she has premiered works by Rahilia Hasanova, Jennifer Margaret Barker, Cody Brookshire, Marc Migo', and others. As a member of the Great Noise Ensemble (GNE), she performed with the group at the final concert of New Music Gathering 2016, and was also an artist-in-residence with the ensemble at the Charlotte New Music Festival in 2015. She appeared in New York City with GNE in the Bang On A Can 2014 Music Marathon at Brookfield Place. She also gave both orchestral and solo performances in 2014 at the National Gallery of Art and the Atlas Performing Arts Center in Washington, D.C. as part of the critically-acclaimed Andriessen 75 festival. Her solo performance of Andriessen's piano music can be heard online at WQXR radio.
Dr. Hurst collaborates with faculty at CUA, most recently performing in the 32 Beethoven Sonatas series at the Rome School of Music. In 2015 she performed at the Embassy of Italy in Firenze Capitale, a program about Florence which featured piano music heard in Florence during its time as the capital of Italy (1865-1871.) She has performed in Portugal with the Cascais Chamber Orchestra and with I Solisti di Perugia in Perugia, Italy.
In addition to teaching at CUA, Dr. Hurst served as adjunct music and piano faculty at Trinity Washington University for nine years. She maintains a thriving private piano studio and is a member of the Northern Virginia Music Teachers Association and the College Music Society. She is also a board member of the Washington Piano Society, where she performs in and helps organize many of the free concerts they offer each year, and Co-Founder and Assistant Director of Cosmopolitan Clavier, a group of CUA pianists that gives fantastic free outreach concerts several times a year. As someone known in the community, Dr. Hurst is often asked to judge competitions and give master classes.