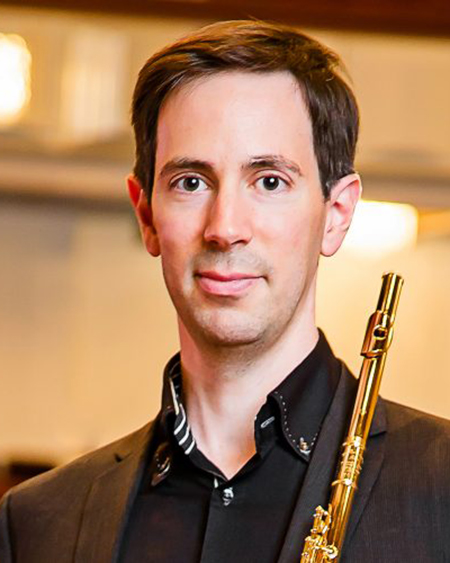 Academic Area
Instrumental Music and Conducting
School
Rome School of Music, Drama, and Art
Aaron Goldman was appointed principal flute of the National Symphony Orchestra by Christoph Eschenbach in January 2013. An active soloist, he has performed throughout the US and made his NSO concerto debut with Maestro Eschenbach in 2014.
Goldman joined the NSO as assistant principal flute in 2006. Prior to joining the NSO, he was principal flute of the Orlando Philharmonic and began his orchestral career as acting principal flute of the Greater Lansing Symphony for the 1999-2000 season.
Aside from his appearances with the NSO, Goldman has performed concertos with the Amadeus Chamber Orchestra, Virginia Chamber Orchestra, Arlington Philharmonic, Orlando Philharmonic, the Chamber Orchestra of Florida, and has performed at several National Flute Association annual conventions. He appears as part of the Kennedy Center Chamber Players, KC Jukebox, and has performed with the Eclipse Chamber Orchestra, the National Chamber Players, the 21st Century Consort, the Smithsonian Chamber Orchestra, and participated in many educational programs with the NSO, including performances in the Family and Terrace Theaters.
Goldman appears regularly as guest artist at universities and flute festivals and has taught at the New World Symphony, the National Orchestral Institute, the National Youth Orchestra, the Master Players Festival, and the NSO's Summer Music Institute. He has given lectures at the Carnegie Institute and the Smithsonian Institution with programs such as "The Magical Flute" and "Math and Music: Closer Than You Think" alongside former NSO cellist Yvonne Caruthers.
Goldman received his Bachelor of Music degree from the Eastman School of Music where he studied with Bonita Boyd.