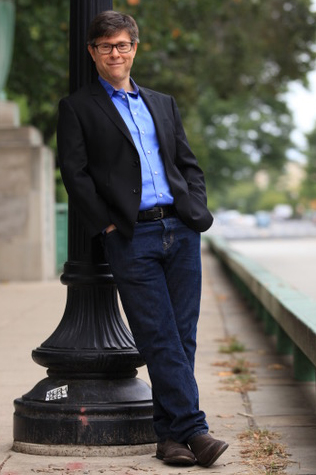 Academic Area
Theory and Composition
School
Rome School of Music, Drama, and Art
Composer Joel Phillip Friedman's natural creative impulse is to work across genres and compose music equally informed by his classical training and his engagement with the vernacular. His varied portfolio includes work for small and large ensembles, musical theater, opera, dance, film, jazz, and rock. Joel's work is characterized by rhythmic energy, a fine balance between expressive power and playful wit, a sense of dramatic narrative, and melodic and harmonic inventiveness.
Joel's music has been performed by gifted musicians and ensembles including: violists Paul Neubauer, Teng Li, and Andrew Gonzalez; soprano Susan Narucki; pianists Alan Feinberg, Stephen Gosling, and Evelyne Luest; cellists Joshua Roman and Fred Sherry; actor/singer Jason Alexander; conductors Barbara Day Turner, Jorge Mester, Alejandro Hernandez-Valdez, and Angel Gil-Ordóñez; Speculum Musicae, the National Orchestral Association, the New York Chamber Ensemble, the New Orchestra of Washington, Inscape Chamber Orchestra, and the San José Chamber Orchestra. His works have been heard in venues including Carnegie Hall (his Viola Concerto - praised by the New Yorker as "beautiful and intelligent"), the Kennedy Center, Bargemusic, National Sawdust, Joe's Pub and the 92nd St. Y, in theaters Off-Broadway and the London West End (Personals, "The brightest revue of the year, and indeed of many a year," New York Post), and at various film festivals (his film score Red Ice was featured at SF IndieFest and the Chicago Horror film festivals). Joel is equally at home in the theater having written musicals (Personals, Let Freedom Sing!), incidental music (Shakespeare's Twelfth Night for Cincinnati Playhouse in the Parks/NEA Shakespeare in American Communities tour, and for Vincent Dowling's Chester Theater production of Bruce Rodgers' The Gravity of Honey), and dance (Sally Hess' T Tables at DanceNOW/NYC). He has received numerous awards, residencies, and fellowships for his work.
Recent and upcoming projects spotlight the range of Joel's work including commissions for Inferno, a double concerto for the San José Chamber Orchestra (2018-19), a new work based on the writings of Hildegard von Bingen for former Anonymous 4 member Jacqueline Horner-Kwiatek's ModernMedieval Trio of Voices (2018); the score for Evolve Puppets' new theater piece Home (2018); Arias with Dance Glitch for the duo Soliloquy (violinist Ariel Horowitz and violist Lauren Siess and with choreographer Paul Emerson, 2016), Movable Home (for string orchestra) for the consortium of San José Chamber Orchestra/Takoma Ensemble/SONYC (2016); and solo works for the Irving M. Klein International String Competition (2013) and the Johansen International Competition (2018). Joel's Elastic Band (for Chamber Orchestra) was commissioned by the New Orchestra of Washington and has been released October 2017 on the Acis label. His experimental music theater piece Fallings (Seth Friedman, libretto) is currently in the works.
Highly regarded for his ability to engage with audiences and make complex topics accessible and entertaining, Joel has taught at Swarthmore College, Georgetown, and Stanford Universities, is known for his course on The Beatles, and for preconcert talks with the Philadelphia Orchestra and Baltimore Symphony. Joel received his Mus. B and MM from Boston University, and his DMA from Columbia University, where he was a President's Fellow. His works are available on the Jay, Crystal, Acis, and Americus labels, and published by Samuel French and Grey Bird Music. He lives in Washington DC with his wife Jenny Bilfield, their daughter Hallie, parrots extraordinaire Percy and Heathcliff, and Sugar Lucille (AKA Dog Of Wonder). For more information see www.joelfriedman.com.