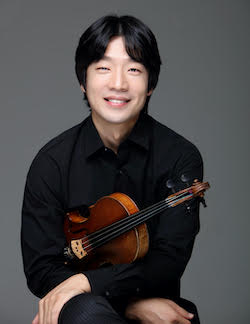 Academic Area
Instrumental Music and Conducting
School
Rome School of Music, Drama, and Art
Dr. Vladimir Dyo is a concert violinist, educator, entrepreneur, and co-founder and artistic director of the multifaceted performing arts organization Global Music Partnership. He has initiated multiple national and international performing, educational, and recording projects bringing distinguished performing artists, composers, organizations, and young artists across the continents to important venues in the United States, Europe, Asia, and the Middle East. 
As a performing artist, he has received numerous awards from foundations, politicians, and national and international competitions including the Grand Prize at the Michelangelo Abbado International Competition in Milan, Italy, 2nd prize at the International Yampolsky Violin Competition in Moscow, Russia, Grand prizes at the top national and international competitions in Kazakhstan, Certificate of Commendation from Mayor of Los Angeles City Antonio R. Villaraigosa, Dubna Cultural Foundation Award, Russia, International Organization "New Names" Award, Moscow, Russia, and other awards. 
Since his debut with the Kazakh State Orchestra at age 12, Vladimir Dyo has toured and performed at prestigious venues in the former USSR, Europe, Asia, and the United States, including Carnegie Hall, Walt Disney Hall, Seoul Arts Center, Rachmaninoff Hall, Tchaikovsky Hall, Column Hall, Mozarteum, Queen Elizabeth Hall, KBS Hall, UNESCO, United Nations General Headquarters and other venues. 
Dr. Vladimir Dyo was featured on the BBC World Service program hosted by Michael Church; "Classical Collection" program hosted by Philipp Richardson and Kevin Parks, and "This Morning" program hosted by Alex Jensen on eFM 101.3, Korea's No.1 Foreign Language Station; "Civilized Discourse with Ross Amico" on WPRB, Princeton, NJ; and multiple times on Kazakhstan National Radio and Television. He was featured in Strad Korea magazine and other media outlets including Trenton Times, Vecherniy Almaty, Chonnam Daily, KBS, Koryo Ilbo, Liter, People Newspapers, etc. 
As soloist and chamber musician, Dr. Vladimir Dyo performed at international music festivals including the Graduates of Moscow Conservatory (Russia), Ost-West-Musikfest, Prague-Vienna-Budapest, and Mozarteum (Austria). The Cliburn Institute (USA), Seoul International Music Camp Festival, Gwangju International Classic Festival (Korea), the iPalpiti International Laureates Festival (Los Angeles, USA), Summit Music Festival in New York, Namdo International Classical Music Festival in Gwangju, South Korea. He has collaborated with and performed works of living composers including Daugherty's "Lex", Tsontakis' 2nd Violin Concerto, and premiered works by David Carpenter, Allen Krantz, Kareem Roustom, Paul Moravec, and others. 
Dr. Dyo has taught violin and chamber music at institutions including the Kazakh National Academy of Music (currently the Kazakh National University of Arts) and Temple University, he has given master classes at Seoul International Music Camp Festival, Shanghai University, Chonnam University, Texas Christian University, Flint School of Performing Arts, State Conservatory of Uzbekistan, Kazakh National University of Arts. His research for the dissertation project titled "The Application of Bel Canto Principle to Violin Performance" has led him to many discoveries of the forgotten violin techniques for tone production and performance without shoulder rest. He has adjudicated national and international festivals, competitions including the III International Competition "Jumeirah Sounds," Dubai, IX International Violin Competition "Astana Violin", New Jersey Music Teacher Association Young Musicians Competition, Music Teachers National Association Eastern Division Student Competition, Korean Musicians Association of Philadelphia Youth Competition, Global Music Partnership Online International Music Competition. He was invited to preside over the Graduate State Examination Committee at the State Conservatory of Uzbekistan and the Graduate State Examination Committee at the Kazakh National University of Arts. In 2022, he was appointed visiting violin professor at the Korea International School of Arts in South Korea.  
In addition, Dr. Dyo serves as the concertmaster of the New Jersey Capital Philharmonic Orchestra.
His primary teachers include Svetlana Abdusadykova, Raissa Mussakhajayeva, Aiman Mussakhajayeva, and Eduard Schmieder. Chamber music teachers include Vyacheslav Uzbekov, Nathaniel Rosen, Helen Kwalwasser, and Lambert Orkis.