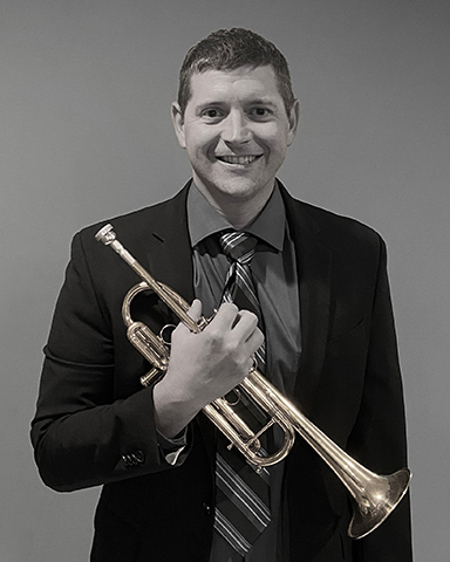 Academic Area
Instrumental Music and Conducting
School
Rome School of Music, Drama, and Art
Dr. DeArmond has performed extensively in all genres throughout the United States. He has performed with a diverse group of ensembles including the Charleston Symphony, Asheville Symphony, Delaware Symphony, Annapolis Symphony, Lexington Philharmonic, Knoxville Symphony, the Tony Award-winning Signature Theatre, Washington Symphonic Brass, Mr. Jack Daniel's Original Silver Cornet Band, Brass of the Potomac, and the Great Noise Ensemble.
Dr. DeArmond currently serves as trumpet instrumentalist in the United States Naval Academy Band. In this position, he leads the Brass Quintet, performs with concert and jazz groups as well as several ceremonial and marching units. With the Naval Academy Band, Dr. DeArmond has recorded and toured nationally.
As an educator, Dr. DeArmond has instructed students at the University of Kentucky, Anne Arundel Community College, West Knoxville School of the Arts, and in his private studio. He is also a Founding Teacher for the Carnegie Hall Royal Conservatory Achievement Program. Recent recitals and master classes given by Dr. DeArmond include the 2012 International Trumpet Guild Conference, the John F. Kennedy Center for the Performing Arts, the Armed Forces School of Music, Maryland Trumpet Day, Towson Brass Day, James Madison University, Northwestern State University, and others.
He received a Doctor of Musical Arts degree from the University of Kentucky studying with Mark Clodfelter. He earned a Master's Degree in trumpet performance at Mannes College of Music in New York City with Robert Sullivan and a Bachelor's degree from the University of Tennessee with Dr. Cathy Leach. Additionally, he studied with Ray Mase and Kevin Cobb during three summers seasons at the Aspen Music Festival.
Awards include the Performance Award from Mannes College of Music, winner of the Columbia Bach Society Concerto competition, Tennessee Trumpet Competition, Celebration of Excellence Competition and finalist of the National Trumpet Competition. You can see more at www.DavyDeArmond.com.