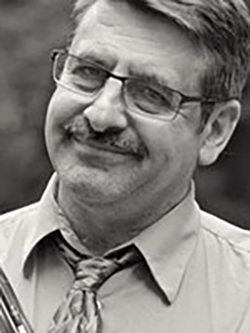 Academic Area
Instrumental Music and Conducting
School
Rome School of Music, Drama, and Art
For over 26 years Jeff Cortazzo was bass trombonist of The U.S. Army Blues, a component of The U.S. Army Band, Pershing's Own, in Washington D.C. With "The Blues" he has performed at many of the world's foremost jazz festivals to include Monterrey and has shared the stage with Clark Terry, Stanley Turrentine and The New York Voices as well as Liza Minnelli, Natalie Cole and Frank Sinatra Jr. He is presently bass trombonist of the National Philharmonic, The Smithsonian Jazz Masterworks Orchestra and is contrabass trombonist of The Washington Trombone Ensemble and The Capitol Bones. He has performed as an extra or substitute with The Chicago Symphony Orchestra, The Lyric Opera Orchestra, the National Symphony Orchestra and The Kennedy Center Opera Orchestra. As lecturer of trombone at The Catholic University of America, he is trombonist in the faculty brass quintet.
Dr. Cortazzo is a published composer specializing in twenty-first century concert music. His works have been performed throughout the world and is a sought-after conductor of his large concert pieces. As an educator, he has a large private studio and enjoys a long history of sending a litany of students on to top tier music schools.
Dr. Cortazzo holds a B.S. in music education from The West Chester University of Pennsylvania, a M.M. in bass trombone performance from DePaul University and a D.M.A. in composition from The Catholic University of America. His principal teachers include H. Lee Southall and Charles G. Vernon for trombone and Andrew Earle Simpson, Stephen Gorbos and Robert Baker for composition.