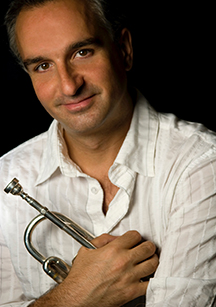 Academic Area
Instrumental Music and Conducting
School
Rome School of Music, Drama, and Art
Orchestral trumpeter Andrew Balio has been principal of the Baltimore Symphony Orchestra since his appointment to the position by Yuri Temirkanov in 2001. For the 2014-15 season, he was also principal of the Oslo Philharmonic under the baton of Vasily Petrenko. From 1990 to 1993, he served as principal of the Orquesta Sinfonica del Estado de Mexico; and in 1993, Zubin Mehta appointed him principal of the Israel Philharmonic, where he stayed through 2001. The 1999-2000 season had him serving additionally as principal of the Bergen Philharmonic. Balio has been a frequent soloist since his earliest days as a student, having made his debut at the age of 15 playing Haydn's Concerto with the Milwaukee Symphony in his home state of Wisconsin. Over the years, he has appeared as soloist with various orchestras in Europe, the US, South America, and Asia under the batons of noted conductors Mehta, Venzago, Herbig, Temirkanov, Rozhdestvensky, Lintu, Stenz, and McGeegan. His Carnegie Hall solo debut, an important milestone, came in 2013 in the company of the Moscow Chamber Orchestra and Maestro Constantine Orbelian. In 2012, Naxos issued his first solo recording, the Weinberg Trumpet Concerto with the St. Petersburg Symphony, inaugurating a string of other recording projects planned to document his repertoire. He also was soloist with the Oslo Philharmonic's recent release of Scriabin's Le Poéme de l'Extase. Most recently, he recorded a two CD set for Delos of his own transcription of music by J.S Bach for organ, recorded at the University of Notre Dame.
As a teacher, he has traveled extensively, presenting masterclasses throughout Europe, Asia, and South America. In the U.S., most notably, he has recently been instructor for the National Orchestral Institute and Carnegie Hall's NYO-USA project with Michael Tilson Thomas. As a lifelong meditator, the yogic breathing practice for meditation, pranayama has figured prominently in his integrated approach to the trumpet. This knowledge was an ideal addition to the breath-centric wisdom of Charles Schlueter and Adolph Herseth.
The last and still emerging chapter in this biography is his founding of the Future Symphony Institute, a nonprofit think tank dedicated to bringing the best thinkers and experts from outside the arts together to confront the various challenges facing orchestras and classical music both in the US and worldwide. Please visit the Institute's website at www.futuresymphony.org to learn more about their vision for the future of classical music. He is also serves on the board of trustees of the Academy of Philosophy and Letters. Andrew Balio is a Yamaha artist.