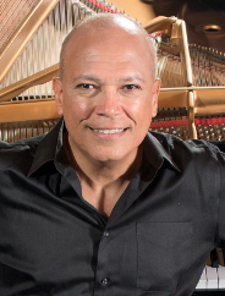 Academic Area
Piano
School
Rome School of Music, Drama, and Art
Jose Ramos Santana, a native of Puerto Rico, Jose Ramos Santana is one of the most acclaimed pianists of his generation. He performs a wide and diverse repertoire while being an acknowledged master of Spanish Music.
Mr. Ramos Santana has appeared as a guest soloist with such major orchestras as the New York Philharmonic, Royal Philharmonic Orchestra of London, Detroit Symphony, Saint Louis Symphony, Baltimore Symphony, San Antonio Symphony, Rochester Philharmonic, 92nd Street Y Orchestra, The New York Virtuosi, Casals Festival Orchestra, Puerto Rico Symphony, and the orchestras of New Mexico, Sioux City, Utah, Syracuse among many others. Additional solo performances include the Moscow Philharmonic Latin-American tour, Orchestra of L'Hermitage of Saint Petersburg, Russia, and has collaborated with distinguished musicians and conductors such as Krzsztoff Penderecki, John Adams, Dennis Russell Davies, Jerzy Semkow, Dimitri Kitaenko, Joseph Silverstein, cellist Arto Noras, violinist Gregory Zhislin , and pianist Vladimir Viardo.
Jose Ramos Santana's much lauded guest appearance with the American Composers Orchestra at Carnegie Hall during the Sonidos de las Americas Festival was described by critic Allan Kozinn of The New York Times as " powerful…Mr. Ramos Santana played with virtuosity and precision". This event marked his third Carnegie Hall performance in one year.
A top prize winner of the Gina Bachauer International Piano Competition, he has performed extensively in the United States, Latin America, Europe and the Far East. He has appeared in music festivals such as Spoleto, Caramoor, Casals Festival, Grant Park Festival in Chicago, Festival de Musica Contemporanea in El Salvador, and Festival Bravissimo in Guatemala as a soloist with the Guatemala Symphony Orchestra.
As a recitalist, Mr. Ramos Santana has performed at The Kennedy Center's Terrace Theatre and the National Gallery of Art in Washington D.C. Radio Svizzera Italiana in Lugano Switzerland, Bösendorfer Hall in Osaka, Japan, Cherbourg's 50th Anniversary of the American Invasion in France, Center for the Arts in Hong Kong, China and at the 25th Anniversary of Musica de Camara Series at Merkin Hall in 2004.
A frequent performer on radio and television, he has been featured in documentaries including the 1986 Gina Bachauer International Piano Competition on the PBS network, "Casals Festival 1995" on the Arts and Entertainment Channel and on "CBS Sunday Morning". In 1989 he was selected from over one hundred pianists to participate in the prestigious Xerox Affiliate Artist Program.
Mr. Ramos Santana is a graduate of the Juilliard School where he studied with Adele Marcus, William Masselos and Sylvia Rabinof. He has also coached with Leon Fleisher and Alicia de Larrocha.
Jose Ramos Santana's recently released world premiere recording of "Glosas" by Roberto Sierra with the Royal Philharmonic Orchestra, has been described by the Hong Kong Hi Fi Review magazine as "Jose Ramos Santana who established his career as an interpreter of Spanish Music is indeed extraordinary in his performance, which excites our desire to repeat this auditory experience". Other works included in this CD are Ravel's Piano Concerto in G and Saint- Saens Piano Concerto in g minor op. 22, on the Fleur de Son Label.
During the summers Mr. Ramos Santana is an artist faculty member of the International Keyboard Institute and Festival at Mannes College in New York City.