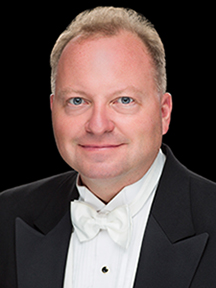 Academic Area
Music Education
School
Rome School of Music, Drama, and Art
Glenn Paulson is the former timpanist of the Barcelona Symphony Orchestra, has been a member of The American Symphony and the Bard Summer Music Festival. He has also performed with The EOS Chamber Orchestra, The New York Philharmonic, The Orpheus Chamber Orchestra, and in many Broadway shows including As The World Goes 'Round, The King And I, and The Music of Andrew Lloyd Weber.
In 1997, he won a position with "The President's Own" United States Marine Band in Washington DC. He also performs with the Washington Ballet Orchestra, The Lyric Opera Orchestra of Maryland and is the owner of Drumhome Rentals.
He can be heard on over twenty five recordings with The United States Marine Band, The Barcelona Symphony Orchestra, The Bronx Arts Ensemble, The Eastman Wind Ensemble, The Juilliard Orchestra, and The New Jersey Symphony.
He also recently soloed with the Los Angeles Philharmonic as part of the PBS Great Performances Series honoring composer John Williams.
He has served three terms on The Percussive Arts Society Symphonic Committee and helped create an exhibit featuring various military percussion sections in the PAS museum in Indianapolis. He also presents master classes at Colleges, Universities and Music Conservatories throughout the country on How the Marine Band Percussion Section Interprets and Plays the Marches of John Phillip Sousa.
Mr. Paulson has been composing since 2010 and has had numerous compositions premiered at the Percussive Arts Society International Convention, The College Band Directors National Convention, the New York City Day of Percussion at New York University, the Texas Band Masters Convention and John Phillip Sousa Hall in Washington DC. All the works are published by Bachovich Publications.
He received his Bachelor's degree from The Eastman School of Music and his Master's degree from The Juilliard School.
He resides in Waldorf, MD with his twelve year old daughter Karra, inspiration for most of his compositional ideas and she thinks of the tittles of most of his compositions.