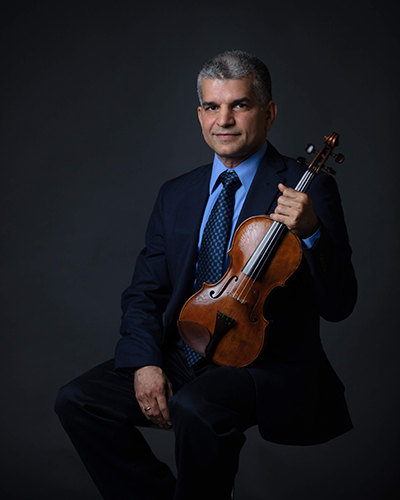 Academic Area
Instrumental Music and Conducting
School
Rome School of Music, Drama, and Art
Jorge Orozco is an experienced violinist and pedagogue who has lived in the Washington, DC area since 2007. He is the co-founder of the Strings Avenue Studio, along with his wife, Maria Montano. Mr. Orozco is also the conductor of two orchestras at the Maryland Classic Youth Orchestras of Strathmore and the conductor of the Georgetown Visitation School orchestra in Washington, DC. He is also a former faculty member of the Levine School of Music in and the Valencia Conservatory in Venezuela.
Mr. Orozco's students have been awarded prizes is several local, national, and international competitions. His violin students have been accepted in schools such as Juilliard, Paris Conservatory, Indiana University, University of Michigan, and University of Maryland.
Mr. Orozco has performed as a soloist and chamber musician in Cuba, Venezuela, Germany, Austria, Italy, Portugal, and the United States. Mr. Orozco is a member of the Washington based National Chamber Ensemble and the concertmaster of the Avanti Orchestra Masterworks Music Festival Orchestra during the summer. He is also a faculty member of the Douro Strings Summer Academy in Portugal.
As an orchestra musician, Mr. Orozco has performed with such artists as Luciano Pavarotti, Placido Domingo, Itzhak Perlman, Yo-Yo Ma, James Galway, Arturo Sandoval, and Branford Marsalis. He is the former Assistant Concertmaster of the Pensacola Symphony Orchestra and former member of the Alexandria Symphony, Mobile Symphony and the Philadelphia based Baroque ensemble Vox Amadeus.
Mr. Orozco holds a Master's Degree in Music Performance from the University of Southern Mississippi, where he studied with Stephen Redfield and a Bachelor Degree in Music Performance and pedagogy from the Instituto Superior de Artes, Havana, Cuba, where he studied with Roberto Valdés.  He has participated in numerous Festivals and workshops including the Texas Music Festival, Victoria Bach Festival, Havana Contemporary Music Festival, Vicksburg Chamber Music Festival, the Sterling-Delay Seminar, and the Juilliard Conducting Workshop.