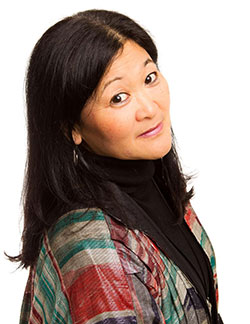 Academic Area
Musical Theatre
School
Rome School of Music, Drama, and Art
One of DC's major mover and shakers in the dance scene since l984, Ms. Hisaka carries the legacy of some of the world's most renown dance leaders. Trained and/or danced with Alvin Ailey, Martha Graham, Eric Hawkins and Merce Cunningham, Gloria Contreras, Mary Day, Gene Hill Sagan and Kevin Iega Jeff. She has trained hundreds of dancers -members of internationally acclaimed companies such as Alvin Ailey American Dance Theatre, Dance Theatre of Harlem, Stuttgart Ballet, and American Ballet Theatre.  She has been instrumental in the development of Georgetown University's Dance Program, the Washington School of Ballet's Release Program, and Joy of Motion Dance Center since 1984.
She has worked in El Salvador, Mexico, Guatemala, Nicaragua, Dominican Republic, France, Italy, England, Jordan, Thailand, China, Canada and throughout the United States. As Founder/Artistic Director of the DC Contemporary Dance Theater, one of DC's first multicultural dance company, she and her Company were selected as cultural ambassador representing the United States for a ten year world tour sponsored by the State Department and the Sister Cities Cultural Exchange Program.  Her work has been presented by the Kennedy Center, The Smithsonian Institution, Dance Place, the Central American Olympics, Washington Ballet, Loudoun Ballet, the Cleveland Clinic's Art & Medicine Institute, Ministry of Education in El Salvador, Santa Clara University, among others.
Her credentials include: a B.A. in Urban Studies from Columbia University and an M.P.A. from the Maxwell School of Citizenship and Public Affairs/Syracuse University; as an urban planner, diversity consultant and member of DC's Mayor's Task Force for Arts and Economic Development in the integral redevelopment of the Gallery Row Arts, 14 & U Arts Districts, and in the renovation of the Lincoln Theatre; a Public Service Fellow to the Maxwell School; an Arts Fellow at the National Endowment for the Arts; recipient of numerous NEA and DC Commission on the Arts and Humanities grant awards for the past 30 years; recipient of various Mayor's Arts Award and city wide awards since 1986; recipient of the University of San Francisco's Jesuit Fellowship. Former director/faculty at Georgetown University for three decades; the Washington School of Ballet for 15 years; and in El Salvador, at the National School of Dance Moreno Celarie; as director of dance at the Central American University José Simeón Cañas (La UCA); and continuation of her Company and their school, El Centro para Liderazgo en las Artes. Most recently in CA, recipient of the University of San Francisco's Jesuit Fellowship, former faculty at Alonzo King LINES, the Marin Dance Theatre, Director of Dance at San Domenico Prep School, and faculty at East Bay Center for the Performing Arts. Currently, Founder/Artistic Director of DC Contemporary Dance Theatre/El Teatro de Danza Contemporanea, and is a certified Somatics/Pilates personal trainer.