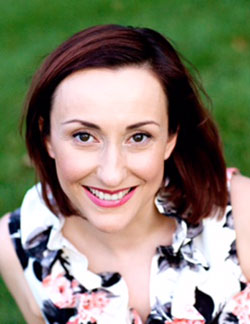 Academic Area
Musical Theatre
School
Rome School of Music, Drama, and Art
Pauline S. Grossman (B.A., University of Tennessee, Knoxville) serves as the Dance Coordinator for the Musical Theater Program in addition to teaching Tap and Theater Dance. She is excited to be involved in the building of a new revitalized dance program where the students are not only given an intense training in our music program but also given a strong foundation in dance so they are able to compete in the professional world of musical theatre. In addition to sitting on the CUA faculty, Pauline also serves on the faculty at Montgomery College. She has worked for Theatre Lab's School for the Dramatic Arts Summer Musical Theatre Institute for Teens and teaches for Signature Theatre's Stage One Workshop where she instructs students in the stylings of musical theatre dance. Along with teaching, Pauline is a professional director and choreographer for many area theaters.
Some of her credits include: CATHOLIC UNIVERSITY OF AMERICA: On the Town (director/co-choreographer); Age of Dreams: Kennedy Center Millennium Stage (director/choreographer); Thoroughly Modern Millie (choreographer); JFK Inaugural Celebration: Millennium Stage at the Kennedy Center (director/choreographer);  MONTGOMERY COLLEGE: Aida (director/choreographer); Crazy for You (director/choreographer), All Shook Up (director/choreographer), Beauty and the Beast, 42nd Street, South Pacific, Me and My Girl; The Mystery of Edwin Drood, Hair; ADVENTURE THEATER: Rudolf the Red Nosed Reindeer, The Witches Brew; THE WASHINGTON SAVOYARDS: Treemonisha, Iolanthe The Pirates of Penzance, Babes in Toyland, Merry Widow, Patience; NO RULES THEATRE COMPANY: The Stephen Schwartz Project; You're A Good Man Charlie Brown; THEATRE LAB: On The Town; Rags; AMERICAN CENTURY THEATER: Dear World; THE BAY THEATER COMPANY: Marry Me a Little; CONCERTS: The Gay Men's Chorus of Washington, D.C. (Kennedy Center for the Performing Arts), Pam Tillis in Concert, Branson, Missouri.
After On the Town, Pauline's next project is as director/choreographer for Curtains at Montgomery College. Pauline studied at Boston University's Summer Theatre Institute, was the assistant to Dr. Jean McCullough who was the head of the Dance Department at the University of Tennessee, and received her BA in Drama from the University of Tennessee, Knoxville.