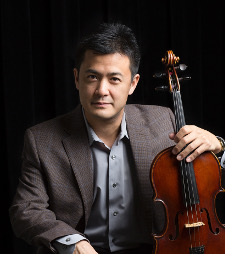 Academic Area
Instrumental Music and Conducting
School
Rome School of Music, Drama, and Art
Philippe Chao enjoys a wide-ranging career as an orchestral, solo and collaborative performer as well as a respected teacher and coach.
A tenured member of the Kennedy Center Opera House Orchestra, he also performs as Principal Violist with The Post-Classical Ensemble and as an extra musician with the National, Detroit, and Baltimore Symphonies. He spends his summers as a longstanding member of the Grand Teton Music Festival in Jackson, Wyoming.
As a chamber musician and recitalist, he has performed throughout the Washington, DC region with numerous organizations including Musica Aperta, the Smithsonian Chamber Orchestra, the Ibis Chamber Music Society, the Chamber Music Series at the United States Holocaust Museum, the Alden Theater Recital Series, the Kennedy Center's Millennium Stage, and the Czech and Ukrainian Embassies' series. Other appearances have included performances at the Supreme Court, the Garth Newell Music Center, Music Mountain, and Oxford University, UK with the Coull String Quartet.
As a concerto soloist, Philippe has appeared with the National Repertory Orchestra, the Virginia Symphony, and the Eclipse Chamber Orchestra and has appeared as the featured soloist with the Fairfax Choral Society at the National Shrine of the Immaculate Conception in Washington, DC.
Philippe is an adjunct professor at the George Mason University School of Music, coaches sectionals at Georgetown University and has been a coach for the DC Youth Orchestra Program and a faculty member of the American Festival for the Arts, the Eastern Music Festival, and Montgomery College. He was a guest artist teacher for the State Department's Artist Exchange Program at the Kennedy Center in 2007 and since 2011, a faculty member of the Ovations Summer String Academy. He served as an adjudicator for the Asian American Music Society's annual String Competition and the Dorothy Farnham Feuer Memorial Scholarship Competition.
Earning degrees from the University of Minnesota and the University of Southern California's Thornton School of Music, Mr. Chao also studied at the Britten-Pears School for Advanced Musical Studies in Aldeborough, England and at the Cleveland Institute of Music. His mentors include renowned pedagogues Roland and Almita Vamos, the Boston Symphony's Michael Zaretsky, international recording artist and soloist Gérard Caussé, William Primrose protegé Donald McInnes, and the Cleveland Orchestra's Principal Violist, Robert Vernon.
Philippe is a d'Addario Artist.